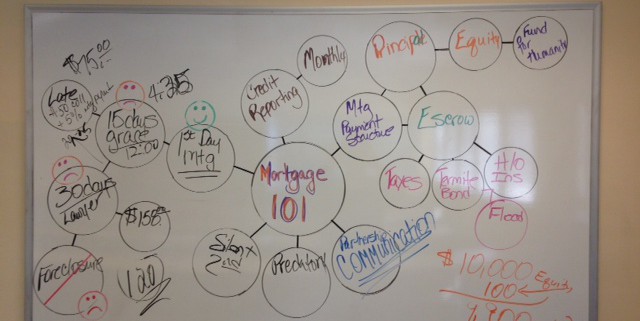 Habitat for Humanity has been building and remodeling homes for families in need since 1976. There are 1, 500 affiliates in the United States and more than 70 national organizations around the world. To date, Habitat for Humanity has helped more than 1 million families — representing 5 million people who now have a safe place to live.
Habitat Houses Aren't Free
Just as anyone financing a new home, Habitat homeowners pay a mortgage. The mortgages are low-cost because they are interest free, but no-interest does not at all reflect the quality of the home.  In addition to paying a low-cost mortgage, homeowners also invest hundreds of hours of their own labor, called sweat equity. They are working alongside volunteers during the entire construction process, and with their own hands they are helping to build their new home.
Habitat homeowners attend classes on principles of home ownership
Halifax Habitat for Humanity hosts Foundations classes to provide important information and training to existing Habitat homeowners, future homeowners and our volunteers. The program was developed to help motivated individuals achieve success with home ownership. The classes are scheduled monthly and cover a range of topics: Understanding Your Mortgage and Escrow Accounts, Home Maintenance, Yard Maintenance, Substance Abuse, Cooking, Shopping Healthy on a Budget and Estate Planning.
Our October class covered mortgage payment basics and we welcomed six home owners, five future homeowners, and four superstar volunteers.
Join the Mission
Home ownership and home construction is a comprehensive process. There are many pieces and parts to ensure the success of a home build. And as you can expect, there are many, many ways to get involved. Below are a few ideas:
Donate – Donate money or materials to help Halifax Habitat build more homes.
Shop – When you need something for you home, stop by our ReStore and see if we have what you need.
Build – Organize a group to volunteer at one of our upcoming workdays.
Please search our Get Involved page for more ideas or contact us with your own idea. We are here to help you get involved.
http://www.habitatgvc.org/wp-content/uploads/2015/10/Halifax-Habitat-for-Humanity-Foundations-Class-2.jpg
480
640
Habitat for Humanity of Greater Volusia County
http://www.habitatgvc.org/wp-content/uploads/2020/02/GreaterVolusiaCounty_Sgl_Black-bkgd-2.jpg
Habitat for Humanity of Greater Volusia County
2015-10-26 19:42:51
2018-07-31 13:56:48
Habitat Classes Give Homeowners A Strong Foundation