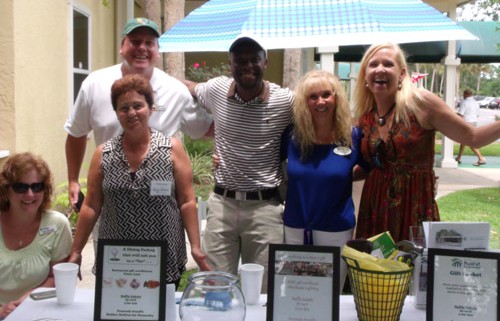 It's no secret that community partners and volunteers are the backbone of Habitat for Humanity. Spend a day at one of our job sites and you will quickly see we could never do the work we do without the generous support we receive from the community. In fact, order if we were to compile all the unique and creative ways people have found to get involved, it would undoubtedly fill many books.
And speaking of wonderful supporters… This month, we are very pleased to highlight the generous support Halifax Habitat for Humanity receives from our friends at TopBuild. 
A look back at TopBuild's legacy of giving
Since 2007, Halifax Habitat has been the beneficiary of TopBuild's construction expertise, in-kind and financial support. The company, which began their partnership with Halifax Habitat as MASCO Contractor Services,  sponsored an Interfaith Build House Sponsorship in 2011 at Flomich Woods, a public- private development made possible through the City of Daytona Beach and Consolidated-Tomoka Land Co. TopBuild employees worked alongside Habitat Homeowner Candidates in the construction of affordable, quality-built housing.
In 2009, company leaders and employees initiated a golf scramble to benefit Halifax Habitat. This annual golf event and other fundraising activities by company leaders and employees have resulted in monetary donations of more than $94,000.
This year TopBuild is taking the Habitat for Humanity partnership to a new level, announcing a significant change to the annual golf event to benefit Halifax Habitat. This year's prestigious golf tournament on June 14th will be held at LPGA International and will feature special events for sponsors, leading up to the tournament. More information will be released soon.
The Board of Directors of Halifax Habitat for Humanity, Inc. will honor TopBuild Corp. at the Annual Celebration of Hope event on Wednesday, April 20, 2016, from 6:00 p.m. to 8:00 p.m. at the newly renovated West Wing of the Museum of Arts and Sciences. TopBuild will receive the "Spirit of Hope" award in recognition of their significant contributions to Halifax Habitat for Humanity over the past nine years.
We hope you will join us in celebrating the outstanding contributions made by TopBuild at our upcoming Celebration of Hope event.  Reservations and sponsorships for the April 20th Celebration of Hope are available through the Halifax Habitat office and website. This year's celebration features catering by the ERAU Sodexo Catering Services and complimentary wine, beer and champagne. Tickets for this elegant reception are $75.00 each and include free admission to the art galleries within the newly renovated West Wing of the Museum of Arts and Sciences, thanks to the museum's partnership with Halifax Habitat.
For more information, please contact Halifax Habitat at 386-257-9950 or email to robyn@halifaxhabitat.org.
http://www.habitatgvc.org/wp-content/uploads/2015/05/Join-a-Habitat-Event.jpg
488
500
Habitat for Humanity of Greater Volusia County
http://www.habitatgvc.org/wp-content/uploads/2020/02/GreaterVolusiaCounty_Sgl_Black-bkgd-2.jpg
Habitat for Humanity of Greater Volusia County
2016-04-15 15:57:54
2018-07-31 13:27:25
TopBuild receives Halifax Habitat for Humanity's 2016 "Spirit of Hope" Award