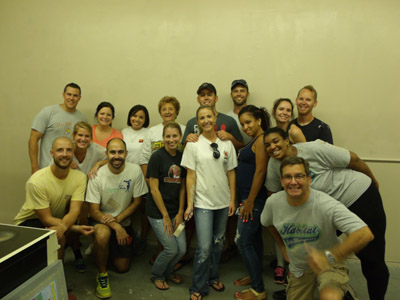 Winston Churchill once said, "We make a living by what we do. We make a life by what we give."
It's no secret that Habitat for Humanity relies a great deal on volunteers to support its mission. Our volunteers have logged thousands of hours, and help us meet many challenges by bringing expertise to our projects. The vast number of stories about the unique ways local businesses, churches, and individuals have found to volunteer could fill a volume of books. This week, we are highlighting a story from our ReStore.
Volunteer Story From The ReStore
When you walk into a ReStore, the look and feel is similar to what you would see in any department store. Items are separated into groups depending on the room of the home. You'll find a robust living room center, dining room, and bedding, and much more. We also house an extensive area for appliances. It's important to keep everything organized and properly displayed.
Recently, our team noticed the appliance department was in need of a room upgrade. Projects like these are perfect for volunteer groups. This week, volunteers from the Restoration Church Port Orange offered their service and fellowship at the ReStore and helped us paint and organize the appliance room. In two hours, we were able to accomplish what would have otherwise taken many hours, possibly even days, depending on staff and time availability.
Volunteer Coordinator Andy Thompson works with all volunteers knows firsthand the difference volunteers make and said, "It was such a pleasure getting to know this group. We're excited to have them come back."
Many projects, like our appliance room makeover, also provide the opportunity to bring new homeowners together with volunteers. Projects like this help homeowners make long-term connections in the community. It also demonstrates the value of the Habitat program and how hard all of our families work in their pursuit of home ownership.
If you or someone you know is seeking ways to volunteer in your local community, please contact us at 386-257-9950. Together, we can find a meaningful and rewarding way for you to get involved.
http://www.habitatgvc.org/wp-content/uploads/2015/08/Restoration-Church-of-Port-Orange-_Web.jpg
300
400
Habitat for Humanity of Greater Volusia County
http://www.habitatgvc.org/wp-content/uploads/2020/02/GreaterVolusiaCounty_Sgl_Black-bkgd-2.jpg
Habitat for Humanity of Greater Volusia County
2015-08-13 15:44:08
2018-08-08 14:55:16
Restoration Church Port Orange Helps ReStore "Build for the Future"