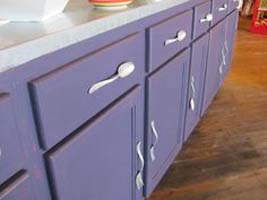 Have you ever skimmed through the pages of a home decorating magazine and dreamed of redecorating your home?
Did the cost of the renovation seem out of reach?
At Halifax Habitat, clinic we are always searching for redecorating ideas that take advantage of the many great items you'll find in our Restore. This week's Restore Home Decorating Tips features an easy upgrade for cabinet hardware.
Add some country charm to your kitchen using silverware as the cabinet hardware. Or add sparkle to the bathroom or a fun element to a child's room or playroom.
A recent article in BuzzFeed life shows us that old silverware isn't just for eating anymore and can be used to make cute and quirky crafts. (See their article for 30 creative ideas.)
Five easy steps to make cabinet handles:
Select the utensils from your local Habitat Restore.
Clean utensils. If they are stained, this use an equal parts mixture of white vinegar and water and soak them for a few hours.
Use the utensil as is or flatten the end. Bend utensil into the shape of a cabinet handle.
Measure the cabinet handle holes and mark matching spots on the utensils. Drill holes that match existing cabinet holes. If you do not want to drill through the utensil, this web apply bonding glue to the back of the utensil and attach a 1 inch stainless steel or aluminum screw.
Affix handles to cabinets using a silver flat head screw and fastener to match handles.
Here's what you may find at the local Habitat ReStore: Cabinets, Nightstands, Silverware, Tools.
It's your turn to share! Do you have an easy home improvement tip? Please share it in the comments.
http://www.habitatgvc.org/wp-content/uploads/2015/05/Forks-and-spoons-as-cabinet-handles1.jpg
200
267
Habitat for Humanity of Greater Volusia County
http://www.habitatgvc.org/wp-content/uploads/2020/02/GreaterVolusiaCounty_Sgl_Black-bkgd-2.jpg
Habitat for Humanity of Greater Volusia County
2015-05-18 16:10:27
2015-06-02 16:04:22
Home Decorating Tip: Southern Living Charm at a Fraction of the Price