Home for the Holidays: A reflection of 2015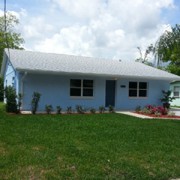 "It's important to me that my daughters saw me accomplish this goal. They worked with me to earn our sweat equity and together, we realized this dream."
Reflections like the words above are the best way for us to share why Habitat for Humanity appeals to so many of us. It is a program that addresses a true community need – the availability of safe affordable housing.
It's a program that requires the engagement of the homeowner candidate.  Habitat for Humanity provides the opportunity, education and support for success – the homeowner candidates contribute hundreds of sweat equity hours as their down payment and purchase the home at no profit from the Habitat for Humanity Affiliate. We provide a zero-interest mortgage and all mortgage payments build equity for the homeowner and support for the next Habitat for Humanity home.  It is a self-sustaining circle of support for our community.
It is a program that impacts local neighborhoods and communities around the globe as our affiliate faithfully tithes in support of habitat for Humanity International in areas of extreme poverty.
A look back at our year
Halifax Habitat for Humanity currently has three homes under construction in Daytona Beach. The Rotary Club of Daytona Beach West is sponsoring our Veterans Build. The Farella and Melignano family is sponsoring a second home. And our friends at Barton Malow are sponsoring the third home, in addition to the many, many volunteer hours their team has put in at all our projects this year.
We will also work on two renovations during 2016. Last year, we completed five homes – five families, including 11 children, now have a safe, sustainable home. In addition, they have the knowledge that there are caring and involved individuals, businesses and congregations in our community that are willing to invest their time and financial support. Since our start in 1986, Halifax Habitat for Humanity has served 137 families, and more than 375 children. These 137 homes result in more than $85,000 in property taxes paid by those homeowners annually.
As another holiday season brings us together with family and friends, and we celebrate the importance of love, family and home – we ask that you consider an investment in the future of local families and neighborhoods.  Consider a donation to our general building program or perhaps our newly-created "Ray Johnson Memorial Scholarship Fund." This scholarship was established in memory of our dedicated GE volunteer, Ray Johnson, to help our Habitat families achieve greater independence and economic stability through educational opportunities.
Your investment will truly honor the importance of our work and the reason for the season.