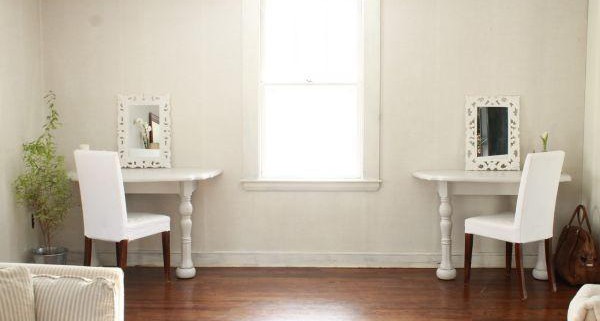 When we look at an old piece of worn or damaged furniture, our first reaction might be to toss it in the garbage. But, not so fast. In this ReStore Home Design Tips post, we look at ways you can take old, damaged, and worn traditional household items and repurpose them into beautiful new furniture pieces. If you've got time this weekend, we have the perfect home design project for you.
1.  Turn an old table into two desks
Lifestyle blogger Jen Migonis, known for showing you how to live large in small spaces, has turned an old table into his and her desks and stationed them on either side of a window. A repurposed table is perfect for households with children who need a space for homework, or for creating quiet space to reflect and catch up on reading.
See step-by-step how Jen and her husband created the table here.
2. Turn an old desk into two nightstands.
Mandy, the mastermind behind Sugar Bee Crafts shares a wonderful project for repurposing an old desk. She has created two, very functional and practical bedside nightstands. A little carpentry work and stylish paint make these nightstands a beautiful addition to any bedroom.
See step-by-step how Mandy created the nightstands here.
3. Repurpose an old door into corner shelving unit.
Do you have corner space that could use something creative and functional? Designer David Galloway has a weekend project perfect for you. For this project, he created a corner shelving unit by cutting an old door in half and adding a couple of coats of paint. What you end up with is a corner unit that really steals the show and actually becomes the room's focal point.
See step-by-step how David made the corner shelving unit here.
Now it's your turn, what magical transformations have you created out of old furniture? Share your project in the comments and we'd love to see a picture too!
If you don't have the right piece of furniture, take a trip to the Halifax Habitat ReStore.
http://www.habitatgvc.org/wp-content/uploads/2015/07/Migonis-Home-Design-Tip-Table-sawed-in-half2.jpg
400
600
Habitat for Humanity of Greater Volusia County
http://www.habitatgvc.org/wp-content/uploads/2020/02/GreaterVolusiaCounty_Sgl_Black-bkgd-2.jpg
Habitat for Humanity of Greater Volusia County
2015-07-03 20:38:32
2018-07-31 14:13:01
Home Design: 3 Ways To Turn Something Old Into Something New