Habitat for Humanity of Greater Volusia County provides safe, decent, affordable homes to families in need. Since 1986, we have built homes and have served 176 families in the service area. Our work isn't possible without your help.
Build with us. Celebrate with us.
Below are upcoming volunteer workdays and special events. Click on the dates to learn about the activities for that day. (Activities may be changed due to weather or material needs.) If you would like to volunteer, please contact Kimberly Boyce at 386-257-9950 or Volunteer@HabitatGVC.org. Download a Volunteer Application here.
We want every volunteer to have a great experience and it is important to sign-up for the site prior to arriving on the workday.
17th Annual Bubba's Building Block Party
Save the Date for November 10, 2018
This annual, creative, fun, fund-raiser is an event not to be missed.  Local companies, clubs and service organizations team up to create structures using children's building blocks and at the same time they help local families and individuals out of substandard housing and into affordable home ownership with Habitat for Humanity of  Greater Volusia County.
Thanks to the generosity of our Signature Sponsor, Bubba Gump Shrimp Company all event costs are covered which means that all table sponsorships directly impact our affordable homeownership program.  If you are interested in sponsoring a table or have additional questions regarding this event kindly email us at:  Events@HabitatGVC.org or Volunteer@HabitatGVC.org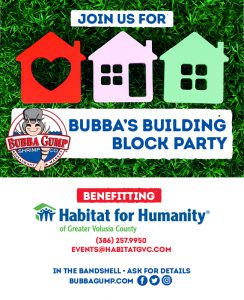 Women Build
Join us in Port Orange and take part in a Women Build!  Women Build puts tools in the hands of women as they come together to build, whether it's building a home or building new relationships.
Our Women Build provides the opportunity to take a proactive step in serving the community.  Any woman who wants to learn how to build and construct a home is invited to join. No experience is necessary. Volunteers work under the guidance of construction professionals and also alongside other volunteers and future Habitat homeowners. Whether you are learning new skills or simply adding a few to your belt, this is a rewarding experience for all involved and improves the community that you share.
Yes, men are welcome. In fact, the future homeowner or part of the training staff may be men. Women Build provides a place for women to learn the skills needed to build a home, but that does not exclude men from participating.
For more information on volunteering or to get your group involved please contact Kimberly Boyce at: email: volunteer@habitatGVC.org or phone: 386-257-9950
New ConstructionIn Progress - Port Orange FL
If you are interested volunteering or scheduling a volunteer group please contact Kimberly Boyce for more details at: volunteer@habitatgvc.org.
176
Habitat for Humanity of GVC
176 families served, and counting!

Current and Recent Construction:
939 Orange Ave.  – Sponsored by Thompson Pump and TopBuild. With support from Barton Malow; Florida Power & Light; County of Volusia; City of Port Orange
941 Orange Ave. – Sponsored by Thompson Pump and TopBuild. With support from: Barton Malow; Florida Power & Light; County of Volusia; City of Port Orange
943 Orange Ave. WOMENBUILD – Sponsored by TopBuild With support from: Akers Family Foundation; Christ Presbyterian Church of Ormond Beach; First Presbyterian Church of Daytona Beach; Volusia County Women's Network; City of Port Orange; County of Volusia; Florida Power & Light; Sandi Johnson/Alexander Family Janie Ray Family; Kay & Bob Russell