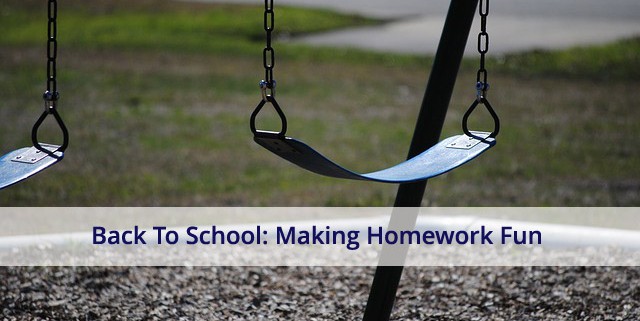 Where did the summer go?
It seems like just yesterday kids were scrambling off the bus celebrating the last day of school and families were busy making plans for the summer. But then, before we could say, "schools out" the first day of school tapped us on the shoulder.  And here we are.
When parents reflect on their school years, it's often remarkable to think of what has changed, even within just the past few years. For many parents, there weren't the distractions that kids have today, especially where technology is concerned. However, there is one thing that hasn't really changed over the decades, and that is homework.
Speaking of distractions… today's school-aged children can easily be distracted from doing their homework by television, radio, video games, social media, hand-held devices, toys, and even phones. Reports share that American children do an average of one hour or more of home every night, depending on a range of factors. Experts say that homework benefits children in many ways, and not just academically. Although all results can't be measured on common standardized tests, children who do homework may become high-achieving adults because they are learning responsibility, perseverance, time management, and self-esteem.
But even with all the good that comes from doing homework, it's still a challenge for most parents to motivate children to do it. Let's face it, kids probably won't ever love homework. But there are things we can do to make the task more fun.
1. Involve your child in the design of their space.
Children can't control the amount of homework they are given or whether they have to do it, but giving them control over their space is helpful. Let your child know that the homework space is a distraction-free space, but they are free to design it any way they wish. Use colors, fabrics, and other design elements to create a space that is unique to their personality. Giving them control over the design will make the space more appealing.
Need a little inspiration? Check out these creative spaces on Everything Mom: 11 Homework Spaces for Kids
2. Allow for breaks.
Did we mention kids are easily distracted these days? Even for adults, it's challenging to stay focused for long periods of time. Most homework will include assignments for several subjects, and we can remove some of the burden by taking stretch breaks or snack breaks (healthy) in between assignments. Let your child rejoice in the moment and enjoy the feeling of accomplishment before diving into the next task.
3. Do the easy assignments first.
Most children have easy subjects and tough subjects. Start with the easy subjects first. They will be able to finish these tasks quickly and gain a sense of accomplishment. If you begin with the hard assignments first, they will undoubtedly take longer and children can become discouraged and tired. Plus, if they are tired from the tough tasks, they won't do as well as they could on those easy assignments.
4. Take a full day off each week.
No one wants to work seven days a week, and that includes kids. A school day is a work day to a child, and then they are bringing their work home with them. If at all possible, let your child take one day off. Schedule at least one day a week, and it will probably be a weekend, where they can just be a kid. Make it even more fun and go be a kid with them!
Don't forget, your child's homework space doesn't have to break the bank. You can find a lot of items at your friendly Habitat ReStore.  Take a look.
http://www.habitatgvc.org/wp-content/uploads/2015/08/Making-Homework-Fun.jpg
428
640
Habitat for Humanity of Greater Volusia County
http://www.habitatgvc.org/wp-content/uploads/2020/02/GreaterVolusiaCounty_Sgl_Black-bkgd-2.jpg
Habitat for Humanity of Greater Volusia County
2015-08-19 21:56:09
2018-07-31 14:06:03
Back To School: Making Homework Fun