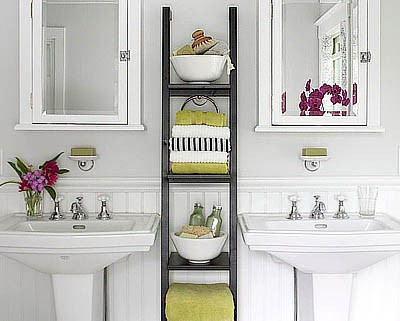 Bathrooms come in all shapes and sizes. If your bathroom is short on space, you can still make a big splash with these ideas for maximizing the space you have,  and without breaking the bank.
When maximizing space on a budget, a little creativity, elbow grease, and some frugal yard sale and thrift store searching all become a top priority. Below are several ways to increase space in a small bathroom while saving money.
1. Add Style with Towel Racks
Let's start with towel racks. A great place for multiple towel racks is the back of the bathroom door. Door racks use up very little space in an efficient manner. Add flair with towel shelves. They're easy to make. Simply cut a 60 inch board into 5 separate foot-long boards. After cutting, sand them and paint them. Then mount the boards horizontally onto your wall, with each board above the next with enough room between them to fit a rolled towel. If placed high enough, it will be completely out of the way. (CLICK ON THE IMAGES TO SEE LARGER VERSION.)
Sources: Door Racks, 2 x 4 Shelves
2. Create More Space with Portable Storage
Small bathrooms typically have little space for storage, so your best option will be adding storage. Search for storage that is flexible and removable, such as storage totes. Our favorites are woven baskets that can be stacked if necessary. They are beautiful and inexpensive.
A sister to storage totes are storage cubes. These equal-dimension boxes have one side missing (5 sided) and come in a variety of colors. The box can be fastened to the wall so that the open side faces forward. You end up with a cabinet stuck to the wall. Very chic!
An over-the-toilet shelving unit is a great way to save space for any small bathroom, and they come in a variety of styles and prices. Or squeeze a trendy, narrow shelf in a small space along the wall.
Sources: Storage Totes, Storage Cubes , Over-The-Toilet Storage, Narrow Shelving
3. Install Space-Saving Cabinets
A great space saver is to replace a larger vanity with a smaller one, or even with one that is opened on all sides. Or, to save even more room, install a pedestal sink.
Other helpful space saving ideas include narrow shelf units which are great for corners, medicine cabinets that are high on the wall and out of the way, over-the-door storage, shower caddies, and corner sinks.
Sources: Open Vanities, Pedestal Sink
4. Say Goodbye to the Tub
A very good way to save space is to get rid of the bathtub and only have a shower space. Changing your bathroom from tub to shower is also trending your house in the right direction for resale or rental.  A freestanding shower will also give the advantage of more room and storage space.
Source: Freestanding Shower
5. Create a Grand Entrance
The entry into a small bathroom is often the biggest space hog. If your bathroom is so small that even a door on hinges is too bulky, consider a pocket-door that disappears into the wall. This is a time-honored space saver. The sister to the pocket-door is the sliding door. The possibilities are endless with a sliding door, and it adds a really cool design element. If there isn't room for a pocket-door or sliding door, as a quick alternative, change the door so that it opens out of the bathroom instead of into the bathroom.
Source: Pocket Door, Hanging Door
6. Add The Illusion of Space with Decorating
There are several ways to save money when decorating and create the illusion of space. For example, paint your bathroom with a light neutral color and it will open up the small space and create a larger appearance. Add framed mirrors on the walls, and group them together for design appeal. Turn a long mirror sideways on one of the walls. Turning a long thin mirror on it's side, instantly creates the look of more space.
So there you have it! Your bathroom will be spacious, stylish, and affordable. Now for the rest of the house…
http://www.habitatgvc.org/wp-content/uploads/2015/07/Narrow-Shelving2.jpg
401
400
Habitat for Humanity of Greater Volusia County
http://www.habitatgvc.org/wp-content/uploads/2020/02/GreaterVolusiaCounty_Sgl_Black-bkgd-2.jpg
Habitat for Humanity of Greater Volusia County
2015-07-17 14:57:38
2018-07-31 14:11:12
6 Ways To Make A Small Bathroom Look And Feel Larger